Our Fantasy Sports Platform Features: Front-End
User Navigation/Menu
Our Fantasy Platform provides your users everything they need to create, maintain, track and join a contest in a user-friendly menu.
Withdrawal History
Transaction History:
End users can always get to their transaction history to view all the payments, withdrawals and games fees they initiated. Always kept up to date in real-time.
Add Payment:
End users will be able to purchase credits via an easy form they fill in using your websites default payment gateway. The system also support crypto currencies.  The site owner only needs to select which crypto they wish to support and then input the corresponding wallet ID for that crypto currency.
Payment Request:
End users can request a withdrawal at any time. The site admin will be notified via email. Then they will need to manually approve or decline the transaction.  Payouts can also be done with Crypto Currency.  The site admin will receive the wallet ID from the user who requested the withdrawal.  Then the site admin can manually send the Crypto Currency to the end user manually.  Then balance will update automatically upon approval.
Credit System:
This ultimate plug-in comes with a built-in credit system that integrates with your website payment gateway. So you can define the cost of credits to purchase and the cost of credits to withdrawal. It integrates with your default payment gateway seamlessly. Users use credits to play in paid games. These are games that have an entry fee to join. It also includes a fully functional admin reporting section for site administrators so you know exactly just how much money you're making.
Lobby Block:
This is a list of games that users can enter. Table headings show entry fee of each game and the total payout. It also displays the amount of players that have entered as well as the size of the pool. Of course it shows the time and date when the pool starts. There is also a very use to use search tool where users can narrow down their search for a specific contest to play.
Create Contest Page:
When a user clicks on Create Contest, they will be presented with a page of options that allow full customization of their league. The site admin has complete control on what options are offered to users. Leagues last just one day.
The user can select the sport, date of pool and even the fixtures they want to be part of their pool. They will select if it is a FREE practice game or if the game has an entry fee. They can also select the pool size. It can be a size of 2, which makes it head-to-head or a bigger size to allow for more participants.
The game type defines what game to play. This is where you can offer Fan Victor's standard game types or have us build you a custom game type.
Pick Selection Page:
Once a user creates a contest, they are presented with the Pick Submission page. This is the page where the users enter their picks or draft their team for their contest. Games can be based on a salary cap or non-salary cap for Player Draft games. For custom games, we can create any input page needed for your custom game.
Live Rankings Page:
Welcome to Fantasy Sports Heaven. After users have entered their picks, they are sent to the Live Rankings page. This page is a summary of their selections. Once the pool has started, users will NO longer be able to edit their picks and will be allowed to view other users picks. So you can watch alongside your favorite sport and watch yourself climb up the leader-board and claim victory!
This page is updated according to Fan Victor stats engine technology.  Fan Victor strives try to make it as real-time as possible. However,  you can integrate other statistical vendors to our plug-in.  Please contact us for details.
My Contests Page:
This page lists all the games a users has entered. This includes past history games, future games and live games. A user can click on any game to view the history if the game is over or view the upcoming game details and picks.
This guide will explain how the font end works and how certain settings configured in the admin panel have an effect on the front end.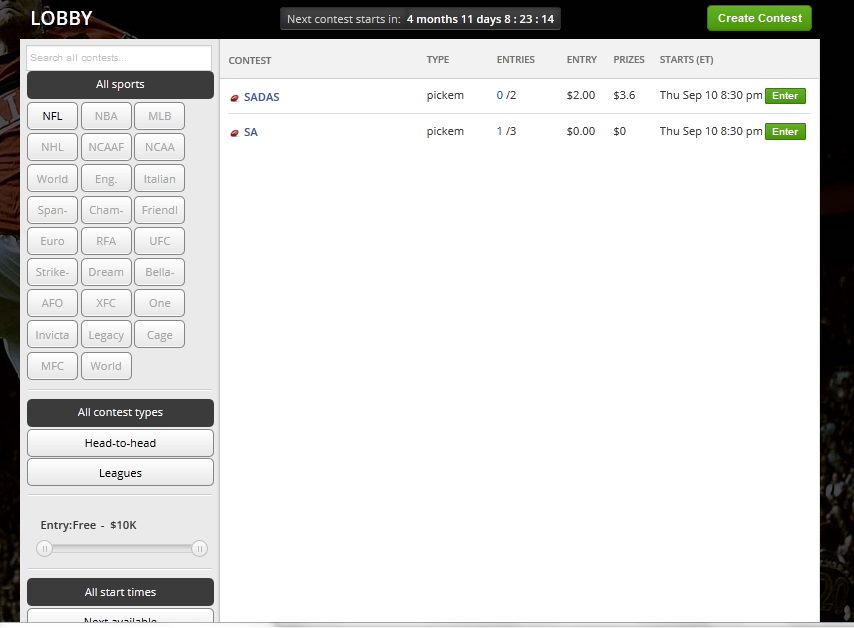 To begin or start a new contest, click on create contest.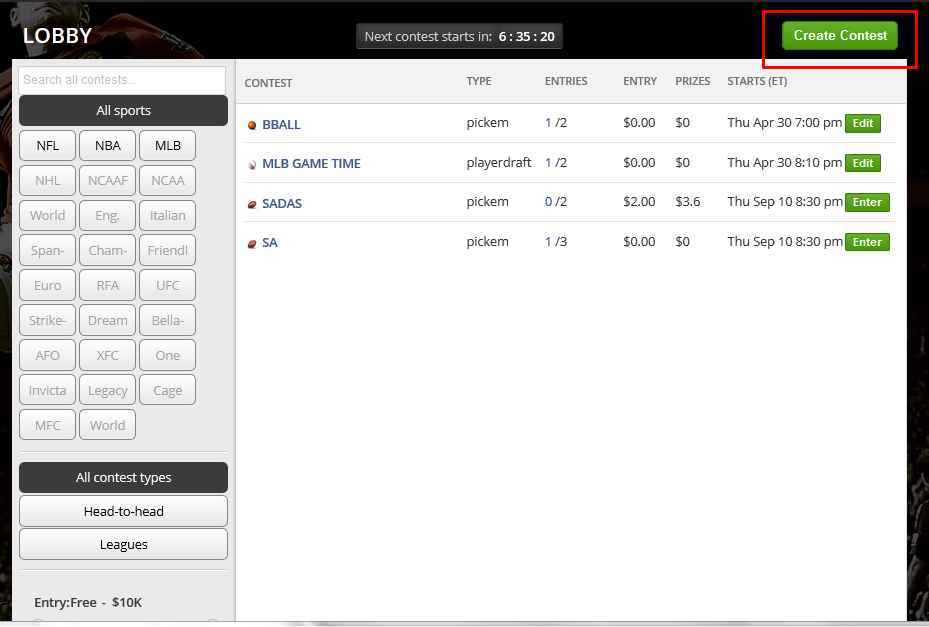 Select the settings you want and click on Create Contest at the bottom of the page.
Legend
Pick your sport: sport that will be used.
Events: date when the contest will begin.
Fixture Selection: teams that will compete.
Game Type: type of game the contest will be in.
Opponent: if the game will be for everyone or within friends only.
Contest Type: a selection of head to head or league.
Entry Fee: should the game be free or have a certain amount to enter.
Name Your League: Name of the contest.
Prizes Gateway: to the victor go the spoils.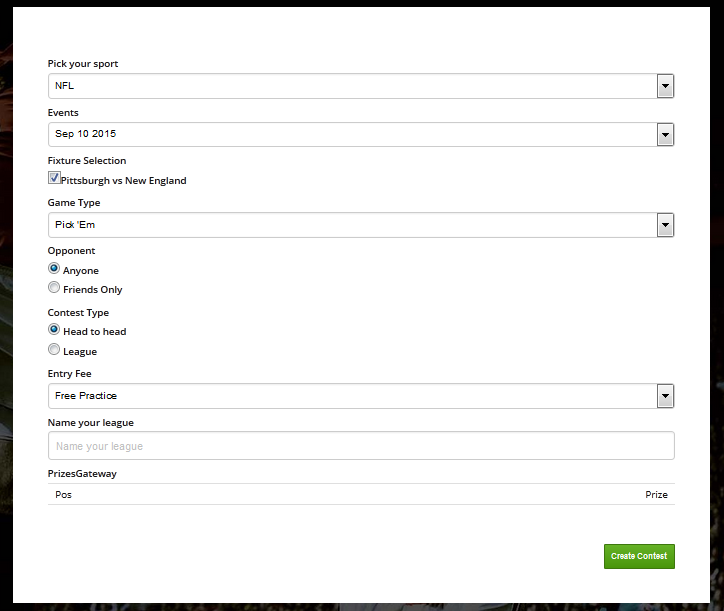 The timer will tell you when the next contest or game will start.

Filtering
If more than one contest or game is created and you just want to see a certain sport, filtering it is easy by clicking on one of the sports on the left side panel. And other sports will be hidden from your view.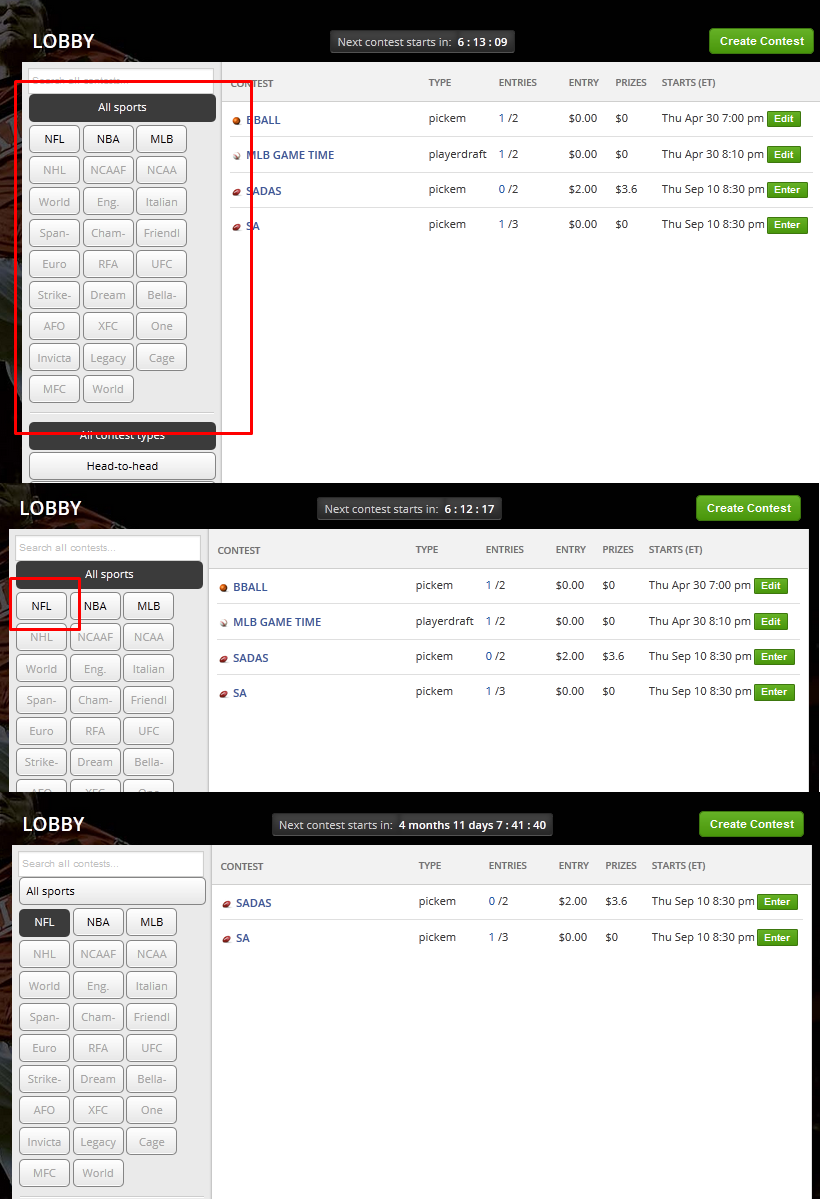 You can also filter by Contest types, Entry Fee and Start Times. Both Contest type and start times are clickable sorts, while Entry Fee is filtered by dragging the left and right circle to their opposite sides and back.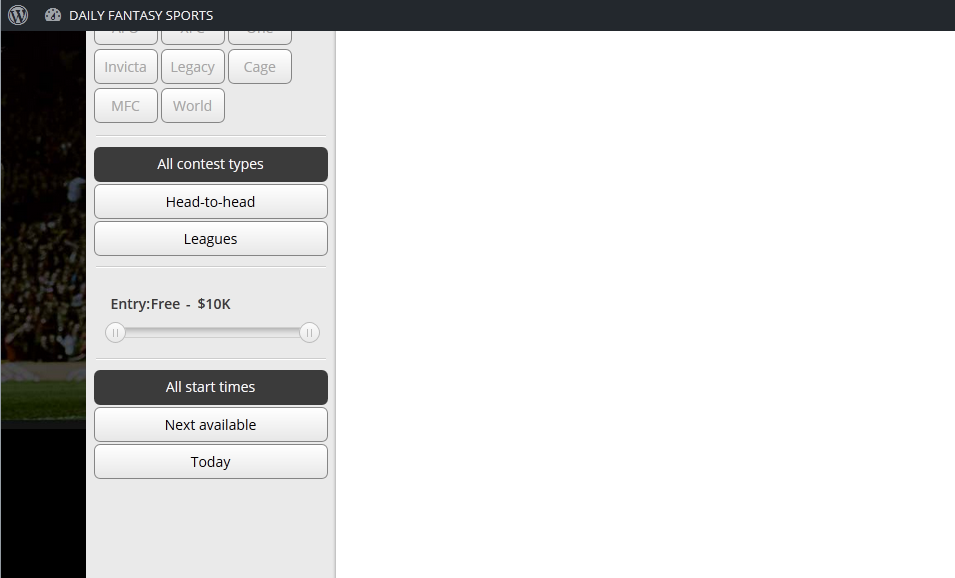 Add Funds
Adding funds will let you participate on any game depending on the entry fee. Currently, PayPal is our default but we also integrated with Choice Merchant.

Live Entries
This page displays all current games that you are in.
Future/Upcoming Entries
This page will display all upcoming or next games.
History Entries
This page will display all live game entries from past to present. (Display may differ from actual website).
My Funds
This page displays the current or total balance of the customer. It also displays PayPal account and admin email account. Request Payment and Adding Funds can be done through here as well.
Future Events
Games dated for a few days or months in advanced will be displayed here.
Game Summary
Records of winnings will be displayed in this page.
Transactions
This page displays all funds that were processed and where they were used.